Editing contact details on web resume
One of the advantages of using resume online is that you can create as many resume versions as you need. For the purpose of this article, you can create different versions of your Web resume to use in different applications from the same or even from different fields (You'd be surprised to see how versatile some people are 😂). When you create a new resume, whether from scratch or from another version, there are header elements that we must adapt to the purpose of this new resume, below we go over these elements and how to change them: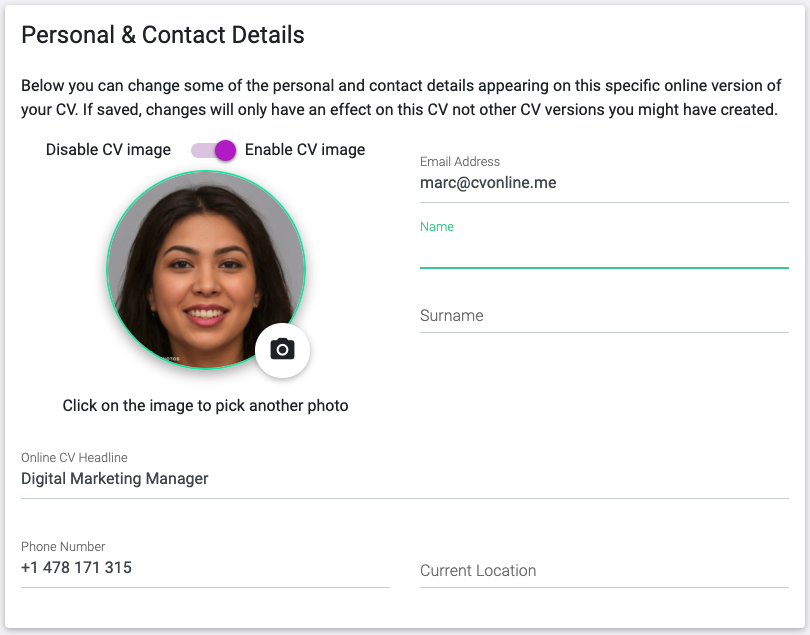 In order to customize or change personal and contact details from a Web resume version, go to edit ir andthen click on the first element of the left-hand menu: "Personal & contact details" under "ONLINE resume SETTINGS". In this page you will be able to edit:
The profile image on your Web resume.
The online resume headline.
Your phone number.
Your current location.
Your name and surnames.
You've probably noticed that the email address can not be edited since this is a unique value for all your resumes, if you need to change the email on your account, here we explain how.
You can customize these elements for each application you might need to, for instance, you can change your location, phone number or pick a formal picture to apply to a more traditional company and use a more relaxed picture to apply to a startup opening.