The objective of your resume is to demonstrate your relevant work experience and skills in such a way that an HR manager or employer wants to get to know you better in an interview. At the same time, it is important that you set yourself apart from other candidates by creating a readable, visually appealing, and engaging resume. When utilized appropriately, a hobbies or interests section can be a successful tool to standing out from the crowd and spark the interest of hiring managers.
Whether it's basketball, pilates, mountain climbing, or cooking, everyone has interests and hobbies that they enjoy participating in outside of work. By incorporating your hobbies, extra curricular activities, and/or volunteer experiences on your resume you can draw the attention of recruiters and hiring managers alike. However, not every hobby is appropriate to include on your resume. Similarly, there are certain extra curricular activities and interests that, if included on your resume, will be more successful in helping you demonstrate your transferable skills and connection to company culture.
In the following guide we will describe the benefits of adding your out of office interests to your resume, tips for writing an interests or hobbies section, how to format your interests section, as well as some hobbies section examples.
Benefits of adding out of office interests to your resume
Not only will hiring managers be drawn to an interests section, especially when incorporating an icon to represent your hobby, but it will help you to stand out from the crowd of other applicants and will more effectively express your originality - what makes you uniquely you. Of course a resume should represent your career profile, but you are much more than your work. By making use of an out of office interests section, you can better represent who you are as a complete person, which in turn affects who you are as a professional.
A great perk to using a hobbies section is that it can be utilized to highlight transferable skills that are relevant to the job position you are applying to. For instance, if you are a developer and you spend your free time volunteering at a community center teaching coding classes, this demonstrates your dedication to your career field, but also shows that you have essential social skills needed to teach. This would be a plus for someone who is applying to be a developer team lead, as it displays leadership skills, as well as the ability to work with and manage other coworkers.
Another practical example is in the case that you work for a marketing company. If you utilize your interests section to show off the fact that you write freelance articles for third party publications on a monthly basis, this will indicate that you know how to successfully maintain your own personal brand and have the ability to craft compelling content, both of which are necessary skills for a marketing professional. Essentially, the best advice is to try to emphasize a hobby that relates to your career in some way, something that adds value to your resume and application.
Using a hobbies section can also demonstrate that your values and out of office passions align with company culture. It is widely known that employees are more likely to stick with a job if they feel content in their job role and that their principles are also supported by the company that they work for. For example, if you are applying to work with a non-profit who advocates for the use of environmentally sustainable products, by articulating your involvement in a Greenpeace group on the weekends, you will show the organization that you have the same values as them. The idea is to present evidence that indicates that your principles and those of the company are one in the same.
In order to do this successfully, it is important that you do your due diligence. Research the company, its mission, and the people they employ. Is it a corporate setting or is it a new venture? Check the company's social media platforms. Try to identify how they engage with their followers and audience. What principles do you have in common with the company? Accordingly, you will want to display information that is applicable to their culture and sense of purpose. If it is a larger corporate company, then its best to try and demonstrate more work related experience, but if it is a lively startup, opt for some of your more fun and intriguing hobbies. In the end, the objective is to show that you are a perfect fit for the company and their work environment, which will most likely result in a greater sense of satisfaction for both you and them.
At the very least, an interests section can help start a conversation. A very common first question in an interview that is often used to try and break the ice as well as get an overall understanding of you as a candidate is: So, tell me a little bit about yourself? When asked this question it is important that you mention some of your career highlights and educational background, but it is also an opportunity to talk about what makes you original. A great way to show off your uniqueness is by talking a little bit about your interests outside of the workplace. You should be prepared to explain how this activity benefits you as well as the skills (hopefully relevant to the job at hand) that you have developed through your participation in said pastime. This is your opportunity to describe how this interest also aligns with the company's values and overall culture. If they do not ask you the above mentioned question, you can always point them to your interests section on your resume and expand upon that idea towards the end of the interview.
Tips for writing your interests/hobbies section
Include interests/hobbies that set you apart from the norm. Do not include highly general activities that most people do, such as reading or watching TV. These activities are very common and do not help in setting you apart.
Similarly, in the case that you are applying for a job in the U.S. or Canada, we recommend that you don't include activities that indicate your religious or political affiliations, such as church groups, missionary work, or campaign volunteerism, as it may set you up for avoidable discrimination. It is important that you be aware of your rights as a candidate, as it is illegal for employers to ask about your religious beliefs and political views in the above mentioned countries. On the contrary, in the case that you know that the company or organization that you are applying to has a publicly stated religious or political affiliation, you may like to include your relevant religious extra-curricular activities, in order to demonstrate that you possess like-minded values and principles as the employer.
Some hobbies that look good on your resume include activities such as sports, yoga and meditation, nature related activities like gardening or camping, playing an instrument, maintaining a blog or personal website, volunteerism, videography, photography, strategic gaming, etc.
We recommend including a maximum of two hobbies or interests. Ideally you should incorporate just one interest or extra curricular activity. Incorporating more than two will become distracting to the hiring manager and begins to become a little unprofessional, as the main point of your resume is to highlight your professional experience and capabilities.
Do not simply list your hobby or interest. Instead, describe how this extra curricular activity has shaped you or benefitted you in everyday life, as well as in your work environment. We highly recommend that you include skills that you have gained through your participation in said hobby, especially if they align with job-specific abilities required or preferred for the job position at hand.
Try to measure your hobby in numbers: How many years have you been participating?, How many times a week do you engage in this activity? How many team members did you coach/lead?, What distance have you traveled (biking, running, climbing,)?, etc.
We recommend that you use an icon or graphic that represents your hobby or interest. This will aid in attracting the attention of the hiring manager and will draw their eye to your interests section. This will effectively set you apart from other candidates and will make your resume more visually appealing.
In the end, when it comes down to the composition of your interests section there is one essential question that you need to ask yourself: Does this information help my candidacy by showing that I am a strong applicant for this specific job role and company? If the answer to this question is no, then don't include it in your hobbies section and opt for information that demonstrates that you are an ideal candidate for the job at hand.
Interests section format
In general, the interests section should be placed at the bottom of your resume. Ideally, it should be aligned on either the left or right side and should include some kind of icon to draw attention to it. In terms of the title of your interests section, you have several options. For instance, you can use the header Interests, Hobbies, Out of Office, or Out of Office Interests. Of course, you can always modify the section title and format to better suit your application, as well as the job that you are applying to.
Interests section examples
The examples shown below are from onlineresume.us's PDF maker where candidates can choose from over 75 different icons to represent their extracurricular activities and out of office interests.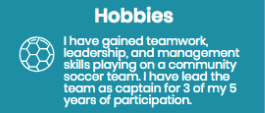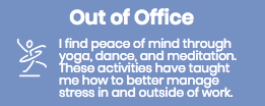 Remember that during the resume review process, the recruiter's aim is to see whether you are qualified for the job position at hand. They will first skim your resume to find whether you have the necessary skills and work experience to fit their ideal candidate profile. At this point, the next step is to see whether you fit in with the company. The hiring manager will try to get to know who you are by looking over your resume with more detail. They will try to understand you as a multidimensional person. This is where your interests section comes into play. Including your hobbies and out of office activities will better help them to recognize you as a real person, rather than a simple piece of paper - and this could make all the difference in getting you that interview.
Onlineresume.us is an online resume-builder that enables skilled job seekers to enhance their career profile by presenting their best possible application. The company helps candidates create eye-catching online and PDF resumes which subsequently increase the applicant's chances of landing more interviews.