JOB HUNTER account. What does it include account?
Here you can see a features comparison between a free JOB SEEKER account and a JOB HUNTER account. Clicking on them, you will be able to see further details on each JOB HUNTER account exclusive feature:
JOB SEEKER
JOB HUNTER
Unlimited online resume versions
Download your PDF resume without limits
With the JOB HUNTER account all limits preventing JOB SEEKER users from downloading their PDF resume are lifted and allow unlimited downloads from all resume versions you need.
All PDF templates available
You can pick any design or template, including the ones marked with the tag JOB HUNTER, these templates can also be picked with a JOB SEEKER account, however they can't be downloaded with it.
Add unlimited sections
If a JOB SEEKER user picks a free template, tagged as FREE, the resume will be able to be downloaded for free, unless the resume has more than 3 sections, if this criteria isn't meet, the resume downloading won't be available. JOB HUNTER users in the other hand can add unlimited sections and their PDF resume will always be available to be downloaded.
Edit your resume design
JOB HUNTER account lets you use the customization features to edit your PDF resume, including: Editing the content and titles font sizes, the template's color as well as the font-type used on the template.
Unlimited PDF resume versions
While JOB SEEKER users can only create one resume version at a time, JOB HUNTER users can create, edit and download as many versions of their PDF resume as they need.
Ilimitadas versiones de resume Online
The same is true for online resume versions: With your JOB HUNTER account you can create as many web resume versions as you need, not only one like JOB SEEKER users.
Edit resume designs
Edit the Web resume or online resume templates
Some online resume designs or web resume templates have background images that can be customized only by users with a JOB HUNTER account
Likewise, the feature to protect an online resume or web resume under a password can only be activated by JOB HUNTER users.
Editing a PDF resume design
The JOB HUNTER account lets you:
Please notice that these features are also available with a JOB SEEKER account, however when used on a free template they will prevent it from being downloaded.
Ad Free User Interface
JOB SEEKER accounts have ads that help us pay for their associated costs. When a user upgrades an account to a JOB HUNTER account, even if it's just for a couple of months, helps us male this service viable, so we don't need to show ads on their accounts.
The price of a JOB HUNTER account
onlineresume.us has over 1.5M users. But we didn't get here overnight or alone. The support of candidates that pay for our work by subscribing to a JOB HUNTER account it's essential to be able to continuously improve our product.
We are not a big corporation with big marketing budgets, we can only afford reaching our users organically. We are in this space because we saw the value that our MVP delivered early adopters, we listen to their feedback and we wanted to substantially improve the platform to add even more value. We believe in a just, honest and transparent pricing model, including a 50% Off when you upgrade for a whole year:
Monthly account
$4.89/month
$58.68/year
Annual account
$2.45/month
$29.34/year
*Prices might suffer slight changes between currencies, but they are very slight changes, the concept is as presented above.
Is the JOB HUNTER account auto-renewed?
Yes, the JOB HUNTER account auto-renews by default, wether anually or monthly while the user hasn't cancelled its renewal, when doing so the JOB HUNTER account won't auto-renew when it expires. Here you can see how to cancel an account auto-renewal.
How to upgrade to a JOB HUNTER account
In order to upgrade your account go to the account features page, you can get there by clicking on your profile image on the bottom left corner and then clicking on "Account Settings" or you might have gotten there from one of the pop ups you got when trying to use a premium feature with a JOB SEEKER account.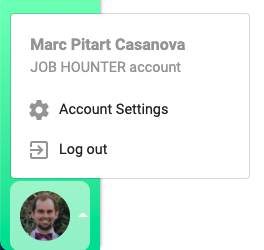 Once there, you will find the following table where you will have to follow the follwing steps:
Click on upgrade account under the month to month account or the anual account based on your preference.
Fill the form with your payment information.
If the payment is processed successfully you will be redirected to a "Thank you page" and will receive an email confirming the activation of your JOB HUNTER account and subscription. The account can be used right away.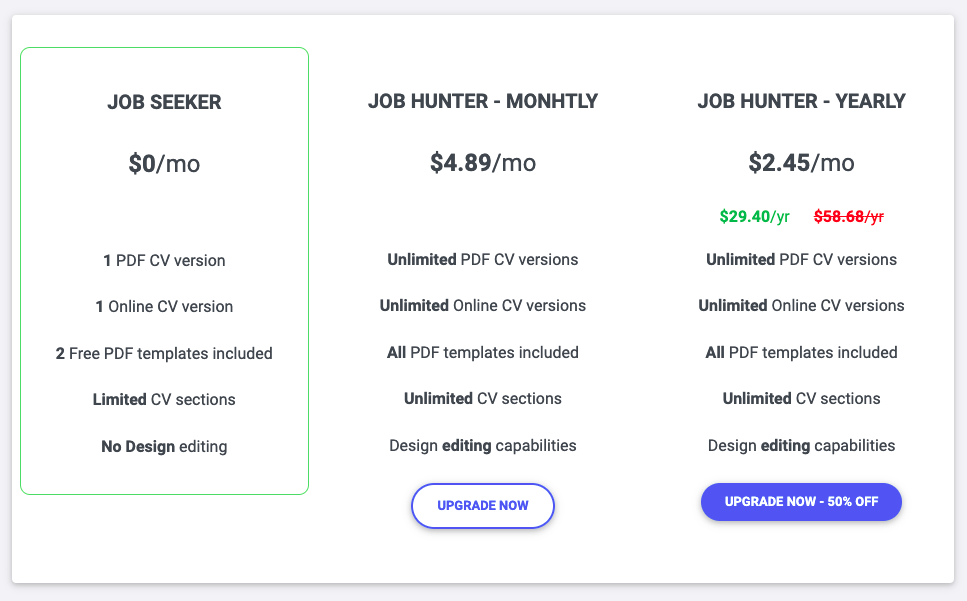 Remember that if you are not going to use your account, you can cancel it easily so that it won't automatically renew when your last payment expires.