How to Write Better Work Experience Descriptions on Your Resume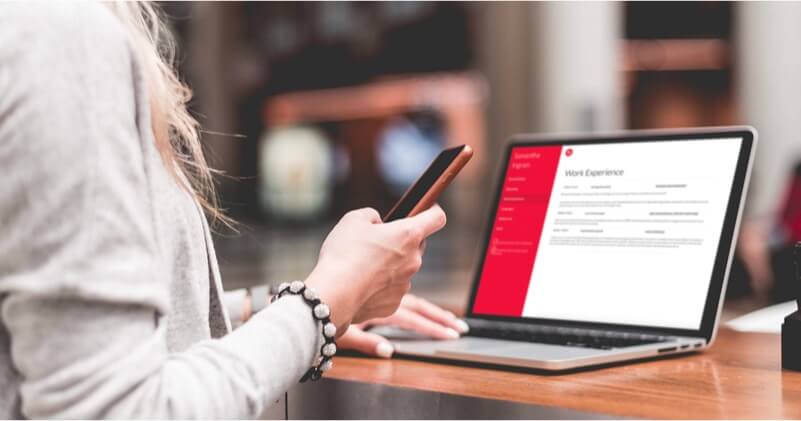 The most important section on your resume, in the majority of cases and positions, is your previous work experience. This content is more relevant in the final decision of the recruiter than any other section. Based on my experience advising candidates, the work experience section is by far the section that has the most errors, but it is also the section with the most potential to improve. A work experience should include various information: the position, the company or employer, start and end dates, and a description of your position and principal responsibilities. Today, I will focus on how to write work experiences that grab the attention of the recruiter.
Before Starting:
One of the most common mistakes occurs when you start to write your resume without really having an idea about what you really want to achieve through your writing. Before starting to write about your past work experience, stop for a moment and try to answer the following questions:
1- What was the company like, where I previously worked? Is it big, average, small, or family-based? What do they do? Is it multinational? Is it a leading company in some aspect?
2- What was my environment like? What division or department did I work in? What role did I play in this division or department? Who did I report to? Was I in charge of other employees?
3- What were my responsibilities? Write them down. Avoid listing specific tasks instead of responsibilities. (For example, a list of tasks would be: "Answer the telephone," "Respond to client emails & clarify their doubts," and "Assist customers with the buying process by answering their questions through the company's website chat." A responsibility in the same respect would be: "Customer support through email, phone, and chat").
4- Did I confront difficult situations? What were they? (Peak workload, problems with clients, new openings, new product launchings, etc.) How did you overcome these challenges?
5- Can my performance be measured in numbers? How do I measure it? (Number of sales, conversion rate, ratio of customer support tickets solved, clients attended per hour or day, teams managed per week, etc.)
6- What were your greatest achievements? Make a list of your achievements and what they meant for the company. (Had the highest number of sales for the year of 2017, voted Best Teacher of the Year, named Employee of the Month for 6 consecutive months, etc.)
The answer to these questions are the base from which you will write your job description. Actually, by no means will you use all of this information. In fact, it is recommended that you use just 30% of this information.
How do you choose which information to include and which to leave out?
This is the part where the description for the job position to which you are applying will come into play, along with a little bit of common sense. Following the section structure shown below, the idea is to select the information that is most relevant to the position to which you are applying. In order to determine which information to include, use the answers to the questions that you responded to earlier and, one-by-one, ask yourself: "Will this information help convince the employer that I deserve an interview?"
Work Experience Section Structure:
Brief description of the company and the department where I worked.
Description of my responsibilities and the effect my time in this position had on the company and accomplishments that I achieved or contributed to the company through my work. If you utilized a specific software (or method) to complete your responsibilities and this is one of the requirements for the position to which you are applying, this is a good place to mention it.
If you have not already mentioned your achievements or you simply want to emphasize their importance, finish the section by mentioning your greatest accomplishments within this company.
Here is a practical example:
01/2007 - 08/2013
Customer Service Team Leader
Hoteles AI
Hoteles AI is an international chain of hotels specialized in vacation hotels with 46 establishments in Spain, Italy, and Greece. Within the Booking Department, I was in charge of the Customer Service Team and reported directly to the Sales Director. I managed a team of three employees in the central offices as well as a team of 300 receptionists and booking agents. My responsibilities included:
Organization and supervision of the Customer Service Team and across all customer interaction channels, i.e: call centre, email, live chat, Facebook Messenger, etc., as well as customer service follow-up in all 46 establishments 24 hours/day, 360 days/year.
Creation of the Customer Service Guide for the hotel chain along with the Public Relations Team and coordination of continuing professional development and training of front desk employees in all establishments.
Integration of an incident detection and tracking system with the hotel chain's CRM, (Salesforce), that reduced 40% of negative opinions in Tripadvisor, which raised the chain of hotels an average of 8 positions/year.
Intervention and resolution of problems in "special" cases, minimizing the intervention of hotel managers by 200%.
Does this advice apply to all kinds of jobs?
Yes! This is applicable for all types of job positions. Above is an example of the mentioned structure with a managerial position, but here you can find an example of an entry level position in a clothing store, and here is one for a senior executive position.
Ejemplo Descripción de un puesto de entrada:
01/2007 - 08/2013 Sales Floor Team Member
Target Corp, USA
Target is the second highest earning discount retail store in the United States of America, with more than 1,800 stores throughout the country. I worked in the Galesburg, IL Target as a Sales Floor Team Member in the food, decoration, sports, toys, and seasonal areas. My main responsibilities were:
Actively assisted clients that visit the store, helping them locate items and make purchasing decisions.
Formed part of the upselling program, increasing the sales of Halloween decorations and costumes by 20% more than the past year.
Managed the entire stock inventory via an automatic barcode system, including stockpiling of arrivals, the removal of expired goods, and the delivery of products to clients or required departments within the store.
Store personnel frequently changes throughout seasons, so knowing how to manage teams and receive new members has been a basic part of my experience while working at Target. I received the "Best Team Player" award 14 months out of the two years that I worked there.
Example description for a senior executive position:
(It is important to mention that for executive positions, the last position that you completed or perhaps your current job position should be the most elaborate of all of your work experience. In other words, it should contain the most information.)
01/2007 - 08/2013 Marketing & Communications Director
Diafarma
Diafarma is a pharmaceutical company that produces and commercializes a great variety of OTC products and parapharmaceuticals related with health and wellbeing with a focus on natural products. Diafarma sells and distributes registered brands such as Ricola cough drops and Colgate toothpastes, among many others, in the European markets of Spain, Portugal, France, and Italy. The company has a total of 160 workers on staff and serves a market population of nearly 180 million people.
The marketing department that I lead was made up of 4 in-house workers and 6 external advertising agencies. I was in charge of design, implementation, and execution of the marketing and communication plans for 32 lines of varying products. As the director, I was responsible for all of these lines and reported to the company's general manager.
My daily tasks included direction and coordination of advertising campaigns within conventional media outlets as well as digital markets. I conducted leading market research efforts to uncover the viability of new and existing products and also worked in close liaison with media and advertising agencies.
I lead the transformation of advertising efforts to digital media outlets, increasing the benefits of Diaframa by 10% over a period of 4 years. This was possible thanks to a 20% increase in sales thanks to the increase in sales of existing products and the incorporation of two new brands and 28 lines of products. One of the campaigns that I am most proud of having lead is the "Smile Operation" campaign from Colgate, in collaboration with the Council of European Dentists and the support of 30 influencers and celebrities. We not only reached record KPIs such as a total audience of 25 million people and 2.2 million views on Youtube, but we were also able to offer dental care coverage for more than 2,000 at risk families.
Always keep in mind that it is important to include only the job positions that are somehow related to the one to which you are applying. If you add experiences that are not related, try to incorporate a perspective that embraces the mentality of the company where you want to work, or that demonstrates soft or hard skills that fit the job position.
What if I don't have any work experience in the field in which I am applying for a job?
In this case, you should incorporate descriptions of the experiences in which you have the necessary skills for the job to which you are applying. For instance, if the position requires a responsible person, in your work experience descriptions, you must demonstrate that you have had previous responsibilities and that you have managed them with success. The more impressive these responsibilities, the better! For example: Responsible for the cash register closing operation for a store with a €15,000 daily revenue.
Career Coach and Recruiter
Montse loves working with people, and for this reason she has dedicated her career to professional development. As an active human resources recruiter, she currently works at Planetexpat.org, training candidates in order to help them achieve their goals in terms of employment search and application, as well as recruiting processes for companies from all over the world. Her career as a recruiter started at Euromanager in Barcelona where she not only realized that she was passionate about helping companies conduct their hiring processes, but was also motivated by the fact that she could train candidates to improve their profile and performance in interviews. Following this objective, Montse continues to work as a coach and recruiter at Planet Expat, as well as collaborate with onlineresume.us in order to help candidates to make their resume and application perfect. In this way, she can better assist them in reaching their employment goals!
She studied Business Management at ESADE Business School in Barcelona, studying abroad one semester at National Chengchi University in Taiwan. At the end of her undergraduate studies, Montse worked for a year and a half creating and implementing a fundraising and visibility campaign for the "Fe y Alegría" foundation in La Paz, Bolivia. She is currently pursuing a master's degree in Coaching and Organizational Change at the Universidad de Chile Business School.